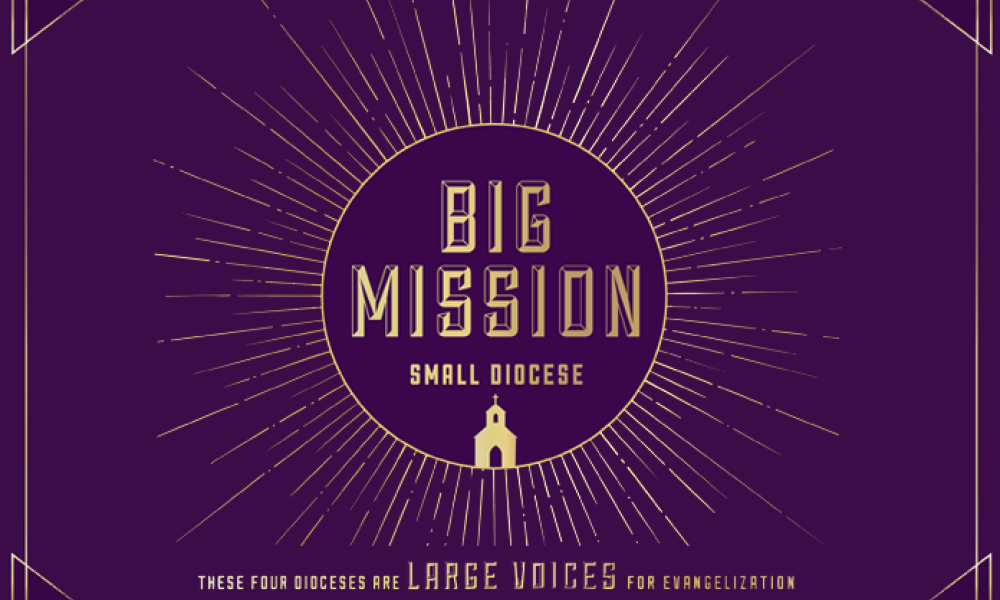 ---
Big Mission, Small Diocese
I was born in Scranton, Pennsylvania—a city with two Catholic colleges, an IHM motherhouse and, it seemed to me as a child, a Catholic church every six blocks or so. We lived within easy walking distance of two churches and the motherhouse chapel. Neighborhoods were defined by their parishes—the south side was simply called Nativity, named for Nativity of our Lord Parish. The life and culture of the Church was everywhere—until I moved to Michigan, I actually didn't know anyone who wasn't Catholic.
Fast forward a few (or more) years—and I was living on a farm. In the middle of nowhere. And it was miles to the nearest Catholic church. Most of my neighbors were not Catholic, and the community's life was not infused with the culture of the Church the way it was in the northeast. You had to work harder to make sure faith didn't become something on the periphery.
In a lot of dioceses around the country, that's the norm.
In fact, many U.S. dioceses are classified as mission dioceses—meaning they don't have the resources to provide pastoral care to all of their people. It's a challenge to reach out to all the Catholics within their boundaries—and they have to be creative in their methods. For several of these dioceses, a magazine provides their bishop a way to be in the homes of his people every month. And those people spend an average of more than 15 minutes with each issue; they also pass the magazines along. 
Here are a few magazines from mission dioceses
High Desert Catholic
Diocese of Reno
Bishop Randolph R. Calvo
Size: 70,852 sq. miles
Catholic population: 85,012
With a population of more than 235,000, Reno is the largest city in northern Nevada. Its casinos, skiing and Lake Tahoe draw visitors every year. And yet, it, too, is a mission diocese. Bishop Randolph Calvo relies on High Desert Catholic to reach readers with the Good News of Jesus Christ. The magazine includes witness stories—recently, a young woman shared why she is Catholic. It also catechizes through the Theology 101 column and shares news of what's happening in the diocese.
In just 16-pages, the High Desert Catholic is truly a "voice crying out in the wilderness" to evangelize.
Inland Catholic
Diocese of Spokane
Bishop Thomas Daly
Size: 24,356 sq. miles
Catholic population: 108,599
In a recent issue of the Inland Catholic, editor Mitchell Palmquist shared the story of a family who had converted to Catholicism. Along with their powerful faith story, the magazine provided information about Holy Week Masses, RCIA and participation in the Easter Vigil. Bishop Daly's column about the power of the Resurrection appeared in English, Spanish and Vietnamese—reflecting the makeup of the diocese. 
With the Inland Catholic, Bishop Daly is able to reach the members of his far-flung diocese.
The Catholic Islander
Diocese of St. Thomas in the Virgin Islands
Bishop Herbert A. Bevard
Size: 52 sq. miles
Catholic population: 30,000
With just seven parishes on several islands, the Diocese of the St. Thomas is one of the smallest in the country. Its remote nature makes it even more critical that the faithful are connected with their Church. Bishop Bevard uses The Catholic Islander to reach his people, no matter what island their parish is on.
A recent issue told the story of Dr. Rizalena Batenga, who has spent her life helping sick children on St. Croix. Her faith is the core of her mission. The magazine also lets readers know about ordinations, priest transfers and the news of local parishes. It helps people keep informed and connected—and includes catechesis, such as a special report about the 100th anniversary of Fatima.
FAITH along Michigan's 45th Parallel
Diocese of Gaylord
Bishop Steven J. Raica
Size: 11,171 sq. miles
Catholic population: 53,960
The Diocese of Gaylord comprises the "top of the mitten" in Michigan. It includes the resort town of Traverse City, as well as small rural communities and acres of vineyards. It has national forests and two Great Lakes. Much of the year, it's covered with snow. A lot of snow. This makes it difficult for Bishop Steven Raica to spend time with all the members of his diocese in person. But he uses FAITH to reach out to them with personal witness stories, columns that inform and educate, and news. 
Stories have included a moving testimony about Rachel's Vineyard from Nancy—who had an abortion and came to regret it deeply. Through her story, readers experienced her anguish, and her journey of faith and redemption. They learned where they could turn if they were experiencing the same kind of grief.