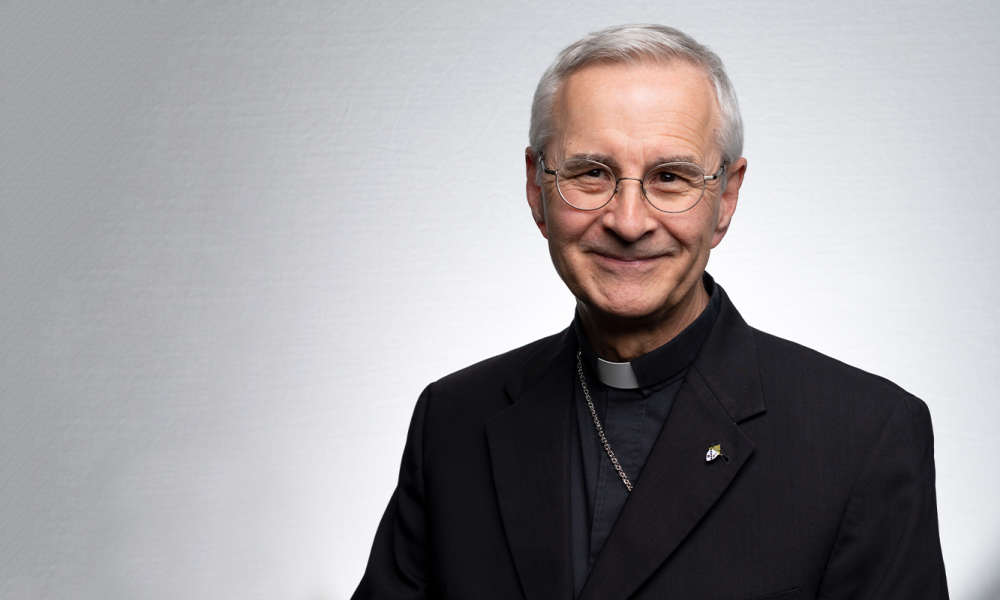 ---
Connecting Christ with His People
An Interview with Bishop Steven J. Raica
Story and Photo By Mary Dillard for Content Evangelist

The Diocese of Birmingham is a mission diocese. How does that impact your methods for evangelization?

As a mission diocese, we have many rural and urban parishes that struggle in a variety of different ways. Currently, Catholics represent about 3.5% of the total population. In some counties, there is a mission church that celebrates only one Mass on Sunday, so the ability for the diocese to reach out directly to the faithful in those areas is critical in encouraging faith and sharing. For example, through our new One Voice magazine, we are connecting Christ with his people, Catholic and non-Catholic. People have the opportunity to share the magazine with family and friends or even pass it along to nursing homes, senior living centers, or apartments. The magazine not only provides an indirect mode of evangelization that we might not otherwise have, it also broadens our impact and builds the capacity for mission. 

Why is it so important to use communications to evangelize the people who are not coming to church right now?

The magazine, in print and online forms, and our social media platforms are complementing and enhancing the mission of evangelization, making our parishioners ambassadors of Christ! Another part of it, for me, though, goes back to some anecdotal experiences that I had when I was up in Gaylord and even in Lansing. People would stumble across an article that would somehow pique their interest or curiosity. It was the welcoming message that resonated with a need in their heart at that moment, leading them to think, "I've got to re-explore my faith because there's something new, something different, something that's attractive to me." 

The magazine is presenting something different than what people are hearing from the general media. Instead of being told about everything that's wrong with the Church, they are reading something that speaks to them — about their humanity and how humanity interfaces with the divine realities. We are helping them discover that another life is possible. We've all got wounds that we're trying to understand, and we are trying to help them build back into a relationship with our Lord. 

You've started a magazine in two dioceses – what have been the benefits of using this format to evangelize?

If we go back to St. Paul, his whole witness was his relationship that happened with Christ. He met someone who changed his life. The witness stories exemplify that moment of evangelization St. Paul VI mentioned in his very famous document on evangelization, Evangelii Nuntiandi — catechists are important, but they are more effective when they are witnesses of their faith. People who are witnesses of their faith have a greater credibility. We need people who share their relationship with Christ in a very open way, which can happen in a thousand million different styles. Some who do it because they just like to talk about Christ. Some who do it because they have a knowledge of the stories of Christ in the Bible. Others do it because they have a relationship with the Lord that is visible. Still, there are some who do it through art, or music, or literature. All of these become avenues in which the fundamental, essential elements of the heart toward truth, beauty, happiness, and justice are all witnessed. Those things are fascinating regardless of where one is.

When I served as Bishop of Gaylord, the newspaper was no longer a tenable solution because it reached so few households. After a few years, it ceased publication, so we had to find another solution. Having served on the board of FAITH magazine while I was a priest in Lansing and having seen how successful it was, I suggested we explore the possibility of a magazine, even if it were a quarterly publication. Soon after publication, we began receiving stories about people returning to the practice of their faith. The magazine was edifying and encouraging. It was another way that we became like John the Baptist in telling Andrew and John, "Look!" Christ is working in our midst, right here, right now! 

By way of contrast, in Birmingham, we had a weekly diocesan newspaper that needed to be freshened up. Communications staff raised the possibility of a magazine to replace the newspaper, and after some initial conversations with key staff and the Consultors of the diocese, a decision was made to move in the direction of a magazine. From what I am hearing around the diocese, the magazine is very well received and is accomplishing what we set out to do — reach every Catholic household with encouraging stories that witness the beauty of our Catholic faith. It is saying in so many ways that it is possible to live our Catholic faith in Alabama!

Your priests chose to support the launch of this magazine financially because they believed in the importance of evangelization. Why did they think this format was so valuable for doing that?

The solution to funding the magazine came as a providential moment in the conversations we were having with the Diocesan Finance Council and the College of Consultors. The priests themselves felt that there was an important place for a diocesan magazine to showcase what Christ is doing among us. Furthermore, it provided a way to share the message of Christ in a modern way, one that could be kept on a coffee table for reference or shared with friends. For a modest price, it would enhance the evangelization efforts of every parish and "get beyond the front door." The Consultors, surprisingly, suggested a parish tax as a way to jointly fund the effort. We didn't have to worry about subscription prices or parishes keeping various lists of parishioners for different diocesan offices. The tax funds the bimonthly edition of the magazine without worries. It turned out to be a happy solution here in the Diocese of Birmingham.

Your first issue featured someone who left the Baptist faith for Catholicism because of the power of the Eucharist. Can you talk about the core value of that?

Alabama is considered one of the most religious states in our country. The vast majority of citizens are Christians from the Baptist, Evangelical or Church of Christ denominations. Baptist churches dot every country road in Alabama. The presence of Christ here is a bit of an enigma. In the midst of all the Baptist churches, our Catholic churches remain a fascination. We have the Shrine of the Most Blessed Sacrament in the middle of the countryside that draws many pilgrims — Catholic, Protestant, and non-believers. Cullman, Ala., is home to the Benedictine monks of St. Bernard Abbey and the Benedictine Sisters of Sacred Heart Monastery, each drawing different groups of individuals. Along with the presence of the EWTN studios and various religious communities of men and women, what Christ is doing here in central and northern Alabama is something very inspiring. We must recognize that the presence of Christ continues to attract what is deepest in our hearts. 

St. Augustine said that our hearts would be restless until they rest in Him. As the deer longs for running streams, we, too, have a longing — a longing for Him. During the pandemic we have been focusing our attention on the parish and the Eucharist, and it has helped many return to the active practice of faith. Truly, there is nothing greater. It's more than fame, fortune, notoriety, or all my accumulations. This is a relationship that promises eternal life — not even my doctor can promise that.

Bishop Steven J. Raica was installed as the fifth bishop of the Diocese of Birmingham in Alabama in June of 2020. Previously, he served as bishop of the Diocese of Gaylord, Michigan.