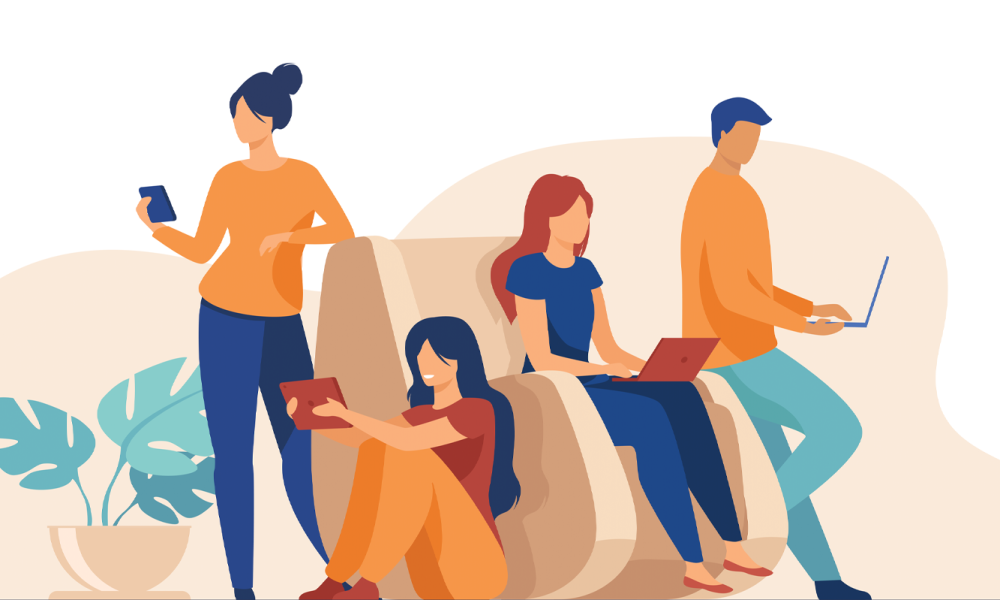 Illustration: Getty Images/SurfUpVector
---
How to promote discipleship through digital publishing
By now, we've all heard the term "digital discipleship," but what exactly does it mean? And how can a diocese or Catholic organization communicate to engage in and encourage digital discipleship?
Digital discipleship is a term that recognizes the reality of our digital age -- we exist as physical, emotional, intellectual, spiritual and, now, virtual beings. Individuals and institutions have virtual personas that sometimes are more present in the lives of their constituents than their physical selves. Need an example? Amazon! 
Dioceses and Catholic organizations can help people act as evangelizing disciples in the digital realm by creating content that can be used and shared to spread the Gospel of Jesus Christ. This means publishing in a way that is accessible and user-friendly, so that people can share Catholic content as easily as they have come to share movie trailers, vacation rentals, news stories and websites — via email, texts, social media platforms, blogs and on their own websites.
What is digital publishing?
Digital publishing used to mean posting a "flip book" version of a print publication online in a format that approximated the experience of flipping through a magazine or newspaper. Today, readers expect to find magazine content on a website, where every story is searchable by publication date, author, subject matter and theme.​​ A digital magazine is branded the same as its print counterpart but presents content in ways that reflect the user's preferences.
Can digital publications replace print versions?
Catholic communications leaders believe the answer to the question of print versus digital isn't either/or, but yes/and. Yes, dioceses and Catholic organizations need to pursue a robust digital strategy in order to give people the opportunity to act as digital disciples. And, they need to continue printing because a print publication sent to registered parishioners is the only way to assure that all Catholics — including the 80% who don't attend Mass every week — have access to inspiring, educational Catholic content in their homes.
However, not all print publications are equally effective. While newspaper readership continues to decline, with most people getting their news online, magazine readership continues to hold strong. Research shows the vast majority of people — including 94% of adults under the age of 25 —still read print magazines. Magazines are thought to be more reliable sources of information and are known to present content persuasively. When it comes to reaching self-identified Catholics, including those who are not engaged with the life of a parish, a print magazine offers the greatest opportunity. Augmenting that with a digital version of the publication now represents the gold standard in strategic communications for dioceses and Catholic organizations.
Magazines with companion websites work harder, reach further, last longer 
The Diocese of Charleston, SC
​The Diocese of Charleston continued the legacy title The Catholic Miscellany when it switched from a newspaper to a magazine. To offer timely news and information and extend the reach of evangelizing content, themiscellany.org launched along with the new publication to give readers more ways to use and share powerful, uplifting Catholic content.
The Diocese of Austin, TX​​
The Diocese of Austin transformed Catholic Spirit into a monthly magazine for every registered diocesan household. At the same time, it revamped its online news page into a digital version of the publication, giving readers more ways to enjoy and share content. It's all part of an integrated plan to build disciples in Central Texas.
The Diocese of Birmingham in Alabama
The Diocese of Birmingham in Alabama revamped its longtime newspaper into a magazine for every registered diocesan household, keeping the title One Voice. The website onevoicebhm.org shares magazine content, news, events and more and helps the diocese implement a comprehensive plan to reach Catholics with evangelizing content.
The Diocese of San Jose
The Diocese of San Jose launched The Valley Catholic with a magazine to celebrate the diocese's 40th anniversary and continued with a quarterly magazine for 70,000 registered Catholic households. Additionally, the magazine's digital site gives Catholics and faith seekers online content to use and share.
The Diocese of St. Petersburg
The Diocese of St. Petersburg launched Gulf Coast Catholic as a digital-only magazine in 2021 and added a print publication in September 2023. The website serves as the main news and events hub for the diocese, as well as providing resources for digital discipleship and evangelization.