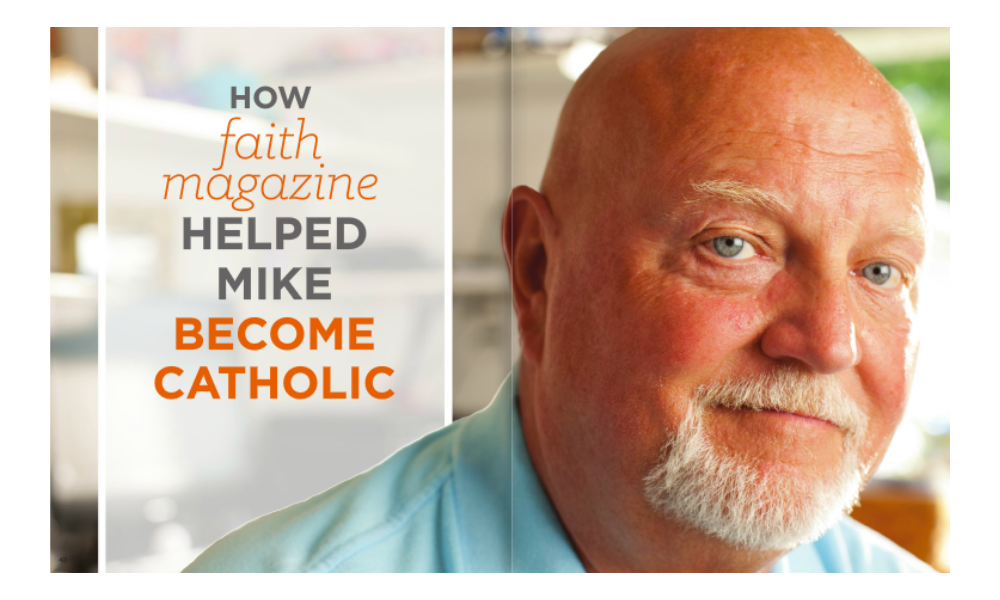 ---
How FAITH helped Mike become Catholic
Mike Gentry came to the Catholic Church later in life. Born into the Baptist faith, he rarely attended church. "I had lots of prejudices against the Catholic Church growing up. What you don't understand you don't like. Even after I married Laura in a Catholic church, I felt it was a canned religion. We had our three kids baptized Catholic and I went to their major events, but I didn't see anything for me in a church," he said.
"I filled my life with work – seven days a week, 10- to 12-hour shifts, plus an hour commute each way. When I wasn't working, I was active in the community, helping start the local volunteer fire department. And when I wasn't doing those things, I hunted and fished constantly. I made it to my kids' games. I didn't neglect them. But looking back, I wish I had been more involved upfront so my kids could have had a better religious base. Michelle, Travis and Brea are all grown now and have blessed us with five grandchildren and one great-grandchild.
Throughout our marriage, my wife, Laura, attended Mass. She tried to get me to go with her, but I wouldn't do it. The last few years, she was getting FAITH Magazine delivered to our house, so I saw it around. I didn't really pay attention, though, until I found it in the hospital waiting room.
In 2003, Laura's sister passed away from cancer. Then, the next year, my mom died of cancer, too. Shortly after Mom passed away, my sister was diagnosed with malignant tumors in her lungs and brain. Even though we hadn't been very close as adults, I wanted to be there for her. She passed away in 2005.
As I sat in the hospital flipping through the pages of FAITH, I saw articles about real people with issues that pertained to what was going on in my life. Father Joe's articles made me start to think of what I was missing. Before long, I started looking forward to getting FAITH in the mail at home.
One day in the fall of 2005, I asked Laura if she would come with me to church. I remembered that even though my mom wasn't very religious, Laura used to sit and pray for her there when she was so sick. When I walked through the front doors ..." Mike pauses to clear the lump that has developed in his throat. "I thought, 'OK. I'm home.' That church is full of spirits," he continues softly. "We could feel our sisters.
I knew something had been missing from my life for a long, long time, but I didn't know what it was. I had tried to fill it with work, and with activities, but that didn't do it. When I walked into church with my wife that day, I knew I had found it. We have a new church building now. Every Sunday, families fill it up. Everybody knows everybody and most are related somehow. If anything's going on, we step in to help take care of it. At first when I started to attend Mass there with Laura, I felt like 'What right do I have to sit next to you in God's house?' But this parish is very comfortable. I decided to become a full member, and Laura agreed to be my sponsor. Sister Ann Marie Petrie put on the RCIA.
By attending RCIA together, Laura and I both learned a lot about the Catholic faith. How do you talk about Sister Ann? I don't know if she knows this, but we call her the 'Flying Nun.' She puts herself in places I would never go to help people. She has ultimate faith that what will be, will be. I really admire that. Sister Ann just retired, but she worked with Father Bob, our parish priest. Father Bob served in World War II before he became a priest, so he can talk to you where you live. My dad is gone now, but I sometimes look at Father Bob and see my father. I wasn't sure how my kids would take it when I told them I was going to become Catholic. I invited them to the Easter Vigil service when I was accepted into the faith, and they all came.
All my children told me they thought it was great. Going to church just fills me up. I'm an usher on Sundays and a member of the Knights of Columbus. I retired from my old job and have a new position closer to home that I really like. But I'm trying to cut back and not make myself so busy all the time. Laura and I like to vacation through geocaching. We've found many spiritual and inspirational places like the old mission church in Good Heart, Mich. Every week, my wife does what everyone calls 'Grandma Tuesdays' when the grandkids come over and they do all kinds of things together. I envy her for having this kind of relationship with them, but I don't really interfere.
My wife's a very good person. When I decided I wanted to join the Church, Laura said, 'I've been telling you all along.' She was right. It has hugely affected my life. I don't know what would have happened to our marriage if I hadn't become Catholic. I do know there's something wonderful for both Laura and me about being part of the Catholic Church. I can't describe the difference it has made between us. I don't believe in pushing religion on anybody. That's between you and God. But if I had a message I would want someone to take from my story, I would tell you to open your heart. I don't know why it's so hard. I've only been a Catholic for six years, and I wouldn't have any idea how to tell someone to open their heart and let God in. When I cleared away the stuff that was blocking the way and walked into the church that day, though, I realized he had been there all along."